Microcrop, One-cylinder Punching Machines
Microcrop is part of Geka´s one-cylinder punching and shearing machines range. Single cylinder punching machine equipped with three separate working stations for different tasks: punching, shearing flat bars, and cutting angles. Additionally, Microcrop has a rectangular notching optional equipment available to be added to its standard equipment.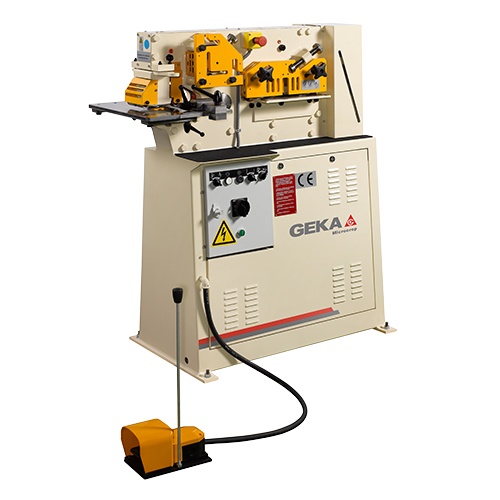 Workstations within Microcrop
Microcrop is one of Geka´s ironworkers that includes within its equipment 3 workstations for the following tasks:
Punching: Microcrop´s punching station can operate at a maximum punching power of 36 tons and has a maximum capacity of Ø 28×10 mm. This punching station has a monoblock body and a sandwich structure. Its punch can be quickly changed and has various off-set punches available for punching over small angles. Some other additional features of this geka machine punching station are:

Blade-holder adjuster
Adjustable stripper
Security protection
Accurate positioning table with removable front for F punching, leg down.

Shearing of Flat Bars: Microcrop´s shearing station can shear over a diameter of 350×6 mm or 200×13 mm. This plate cutting station is provided with adjustable blades for the shearing of flat bars. It also has a material clamping guide.
Shearing of Angles: This angle cutting station can cut at angles of 45º or 90º It can do angle cutting at 90º over a surface up to 80x80x8 mm. At 45º it can do angle cutting over a surface up to 50x50x6 mm.
Microcrop capacity
The specifications of the Microcrop are detailed in the following table:
FEATURES
MICROCROP
Punching Power
36 Ton
Maximum capacity
Ø 28×10 mm
Flat Bars Shearing
350×6 mm
200×13 mm
Angle Cutting 90º
80x80x8 mm
Angle Cutting 45º
50x50x6 mm
Capacities based on a material resistance of 45 Kg/mm2.
GEKA may change technical specifications, equipment and photographs of models, as well as any other information contained herein.
Technical characteristics valid except for typographical errors or omissions.
Microcrop optional equipment
Microcrop has some additional optional equipment that you may add to its standard ones if it is required by your needs. If you want to learn more about this optional equipment or any other information related to this Geka ironworker, please contact Geka.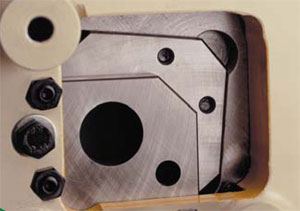 Blades for Round Bars shearing with minimum deformation: Add this equipment to Microcrop's standard equipment if you need to do round bars shearing reducing deformation as much as possible.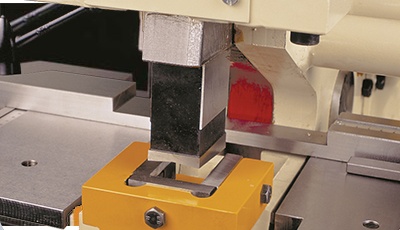 Rectangular Notching: If you want to implement notching tasks in Microcrop you will be interested in this equipment.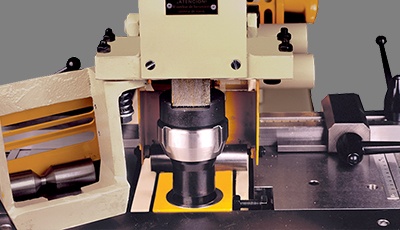 Punching equipment up to Ø 36×8 mm: You can amplify the maximum punching capacity for your Microcrop by adding this equipment to this Geka machinery.