PP Series of Portable Punching Machines
Portable Punching Machines with a punching power of 55 Tons. Enough Power for punching or marking Steel Pieces.
The PP series consists of two portable punching machines. They are portable because they stand over a set of 4 wheels that give these punching machines the ability to be moved with ease.
Portable punching machines versions
There are two different versions of the PP Series they differ on the tasks that they are able to complete.
G model
One of Geka´s portable punching machines series model. It has been designed for doing punching tasks over flat bars and structural profiles.
P Model
The second portable punching machine within the PP series. This machine is equipped with a T slot table that is suitable for punching with various customized tool sets.
Optional equipment
A pressure Marking station of 40 characters is available. It can do punches with a depth of up to 1 mm deep. If you want to know more about this optional equipment, please contact Geka.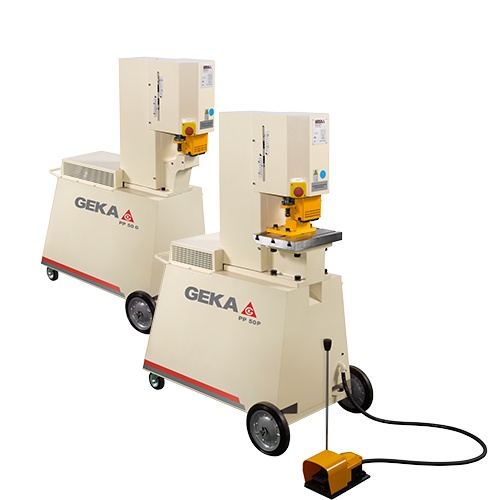 Portable punching machines capacities
In the following table you will be able to observe the capacities of the primary features of the machines within this portable punching machines series.
| FEATURES | P MODEL | G MODEL |
| --- | --- | --- |
| Punching Power | 55 Ton | 55 Ton |
| Maximum Capacity | Ø 28 x 10 mm | Ø 28 x 10 mm |
| Throat Depth | 130 mm | 130 mm |
| Motor Power | 3 KW | 3 KW |
| Strokes per minute (on 20mm. stroke) | 23 | 23 |
| Maximum stroke | 30 mm | 30 mm |
Capacities based on a material resistance of 45 Kg/mm2.
GEKA may change technical specifications, equipment and photographs of models, as well as any other information contained herein.
Technical characteristics valid except for typographical errors or omissions.