Punches, Dies and Blades for your GEKA machinery
We have all the consumables and spare parts that your GEKA Ironworker needs: punches, blades and dies, as well as special tools. These allow you to process metals of different kinds and thicknesses into a large variety of standard shapes—like oblong, square, and rectangular shapes—as well as in custom shapes that you can request from our technical service.
Make sure that you are using consumables and spare parts of the highest quality, ensuring the best longevity and efficiency for your Geka machinery. You can purchase the punches, dies, blades, punching tools, and all the rest of the consumables and spare parts that you need for the optimal performance of your GEKA ironworker.
GEKA manufactures its own tools with the same quality standards that we apply to our machines. Using original GEKA tools guarantees better quality finishings and increase the durability of your GEKA machine. GEKA punches, dies and blades are manufactured in high quality steel and tempering treatment. Our over 100 years of experience in the manufacturing industry guarantees our quality and technical know-how.
If you wish to purchase a custom tool for cutting and punching flat bars or any custom parts for your Geka ironworker, please contact GEKA. Our technical service is available to help you and will be able to design a custom part. You can send us a sketch with the idea that you have in mind, including the shape and size for the part, and our technical service will evaluate the feasibility of the design. All of our custom tools can be adjusted to the standard machine easily and quickly.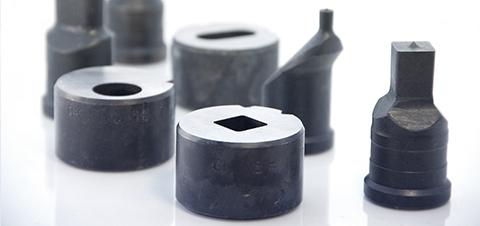 Punching capacities
CALCULATOR.