Claw-shaped notching equipment

GEKA's claw-shaped notching equipment is a notching tool compatible with GEKA's ironworking machines.
The claw-shaped notching equipment opens the extremes of flat bars transforming them into a claw shape. With a single longitudinal cut at the end of the flat bar you can obtain a claw-shaped bar with a separation between the cut areas.
Depending on what Geka machinery you are using, this claw notching tool can handle flat bars of different dimensions.
The list below compares the maximum claw-shaped notching size capacity for each GEKA ironworker machine.
Our wide range of punches and dies also allows you to punch several standard shapes such as oblong, square, and rectangular. You can also make your own shape and size with our custom punches and dies technical service.
If you wish to acquire a machine with our claw-shaped notching equipment, please contact GEKA. Our technical service is available to help you and will be able to design a custom part. You can send us a sketch with the idea that you have in mind, including the shape and size for the part, and our technical service will evaluate the feasibility of the design. All of our custom tools can be adjusted to the standard machine easily and quickly.
If you have any questions about the claw-shaped notching equipment, we will do everything to help you, please contact us.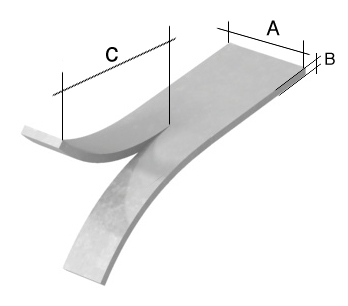 | Machine | A | B | C |
| --- | --- | --- | --- |
| Microcrop 36 | 60 | 5 | 40 |
| Minicrop | 80 | 5 | 40 |
| Multicrop 45 | 80 | 5 | 40 |
| Hydracrop 55 | 50 | 6 | 43 |
| Hydracrop 80 | 60 | 8 | 53 |
| Hydracrop 110 | 60 | 8 | 53 |
| Hydracrop 165 | 60 | 8 | 59 |