Puma 80 Hydraulic Punching Machine
The Puma 80 is the second smallest model in the Geka Puma punching machine series, right after the Puma 55. The Puma Series features five different models of punching machines for all your ironworking punching needs.
The Puma 80 is available in two versions: an S version with a throat depth of 510 mm and an SD version with a throat depth of 750 mm. Both versions of the Geka Puma 80 pack a punching power of 800 KN.
Puma 80 Standard Features
Guide cylinder
Technically dimensioned frame
Strong shaft system to avoid distortions
Guided punch centering
Safety protection
Quick-change punch-holder stripper for Geka tools
Optimum operation speed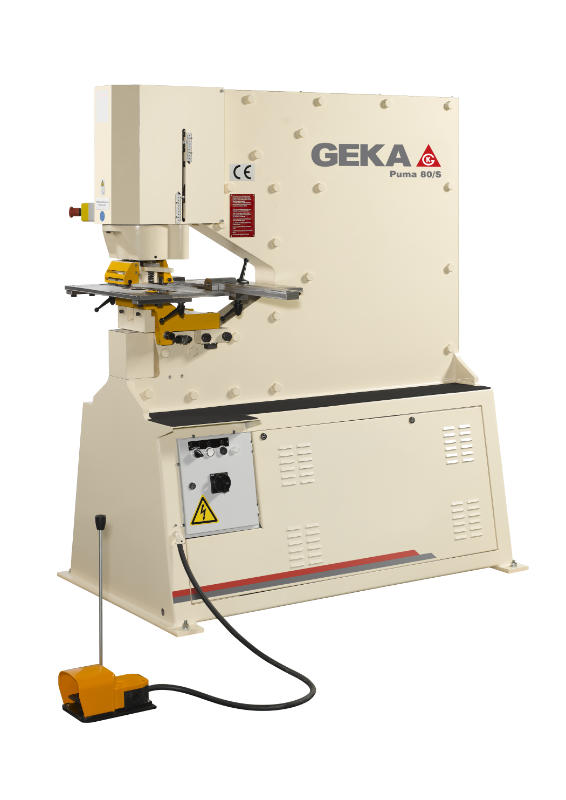 Geka Puma 80 Specifications
Specifications
Version (S o SD)
PUMA 80
PUNCHING
Punching power
 
800 KN
Maximum capacity
 
Ø 40 mm x 14 mm
Throat Depths
 S
510 mm
 SD
750 mm
PUNCHING OF SECTIONS WITH GOOSENECK DIE HOLDER
I on the leg
 
100-300 mm
I on the web
 
100-500 mm
U on the leg
 
100-300 mm
U on the web
 
120-380 mm
GENERAL FEATURES
Motor power
9 kW
Strokes per minute based on ¾" travel of punching cylinder
40
Maximum stroke
70 mm
Working height
S
1094 mm
SD
1194 mm
Net weight
S
1715 kg
SD
2115 kg
Gross weight
S
1925 kg
SD
2350 kg
Volume
S
4,53 m3
SD
5,87 m3
Dimensions with Seaworthy Packaging
S
1.7 m x 1.32 m x 2.05 m
SD
2.1 m x 1.3 m x 2.3 m
OPTIONAL EQUIPMENT
Pipe notching
60 mm
Oversize diameters punching
Ø 100 mm x 6 mm
Capacities based on a material resistance of 45 Kg/mm2.
GEKA may change technical specifications, equipment and photographs of models, as well as any other information contained herein.
Technical characteristics valid except for typographical errors or omissions.
Optional Accessories for the Puma 80
4" or 6" oversize punching attachment
Punch gauging table
Semi-paxy X-Y positioning table system